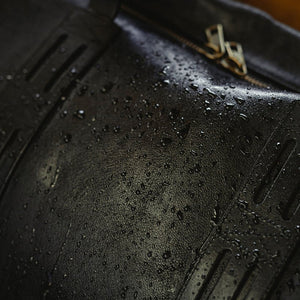 ABOUT
Water Protectant Formula No. 3 is a natural medley of deeply penetrating oils and waxes that both condition and protect leather from malevolent elements. Do you want to protect your quality leather items from the elements? Formula No. 3 is the perfect solution. It is specifically designed to handle harsh weather conditions, especially rain and snow with deeply penetrating natural oils and waxes that both condition and protect. This environmentally safe recipe works great on boots, shoes, purses, bags, outdoor gear, and motorcycle equipment.
Includes a free reusable cotton terry leather conditioner applicator pad for best results!
HOW-TO
1. Shake well. Test recipe first in a discreet area and allow to dry naturally in a cool, clean location away from sunlight and heat. If you do not find excess color rub off, discoloration in leather, or any other negative effect, it is safe to use on your leather.
2. Clean over the surface of your leather with a damp cloth first if it is dirty. When the leather is dry, shake your Leather Milk recipe bottle well and gently massage the conditioner evenly across the leather's surface. An uneven spread may lead to a splotchy dry. Use thin layers, giving your leather as many coats as it needs, but only as much conditioner as it can absorb. If piled on too thickly, the leather conditioner may leave a sticky residue.
3. After it has been conditioned, allow your leather to dry naturally. When the leather has absorbed all the conditioner it can, buff off any remaining residue, and let it set. For best results, allow the leather to sit overnight.
4. Use Leather Care Liniment as often as you feel your leather needs it. It is usually best to condition 1-2 times a year, depending on the climate and amount of use the leather will receive. If your leather is feeling rough and dry, starts squeaking, or develops other textural changes, it may be time to re-condition.
SHIPPING
FREE WORLDWIDE SHIPPING
Estimated delivery time:
Denmark: 1-3 business days - Shipped by GLS Express
Europe: 2-5 business days - Shipped by UPS Express
Rest of the world: 3-6 business days - Shipped by UPS Express
If you have any questions please contact us at: contact@oaksandphoenix.com